Temple Public Darshan Hours
Morning: 6:30am-10:30am (Monday-Friday) and 6:30am-12:30pm (Saturday, Sunday)

Evening: 6:00pm-8:30pm (Everyday).
Current and Upcoming Major Events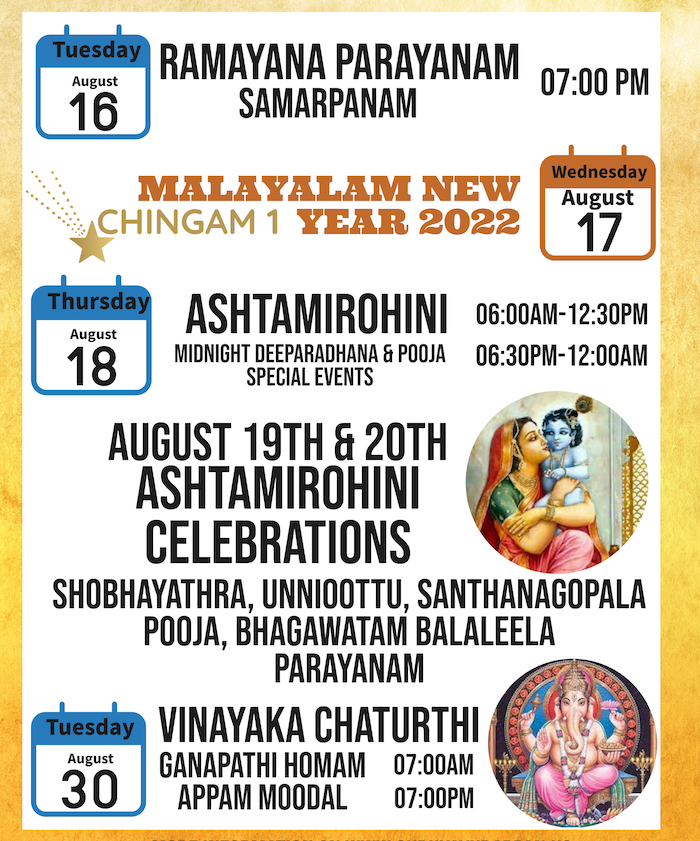 RAMAYANA MASAM SPECIAL
Special Karkidakam Ganapathy Homam – SIGNUP
RAMAYANAM Chanting by devotees

All devotees can chant Adhyathama Ramayanam by Sri Thunchath Ezhuthachan, at temple during temple open hours until Aug 16th. Chanting Signup helps to co-ordinate, walk-ins are welcome as well.

CHANTING SIGNUP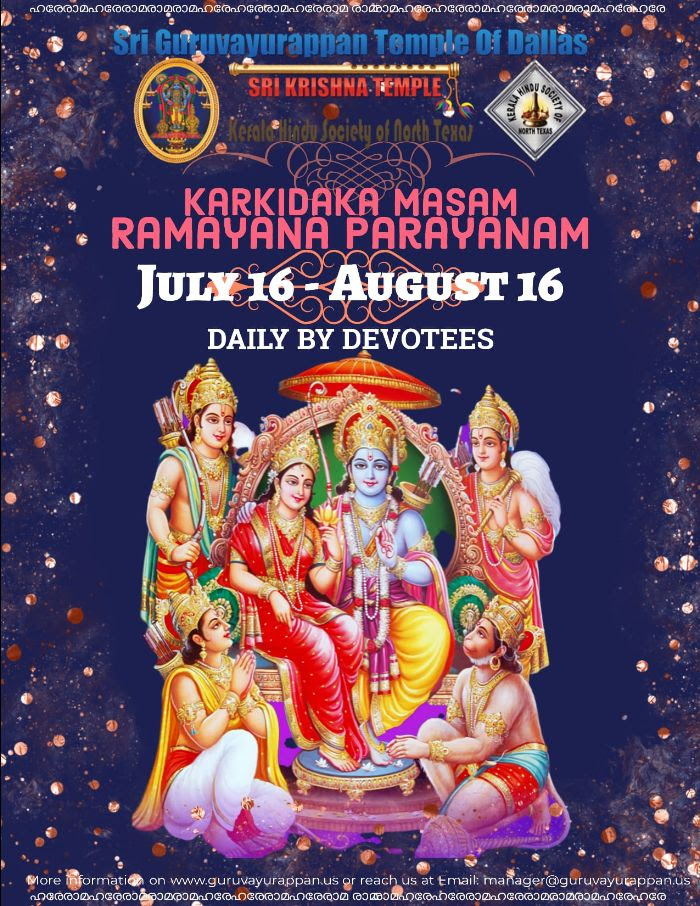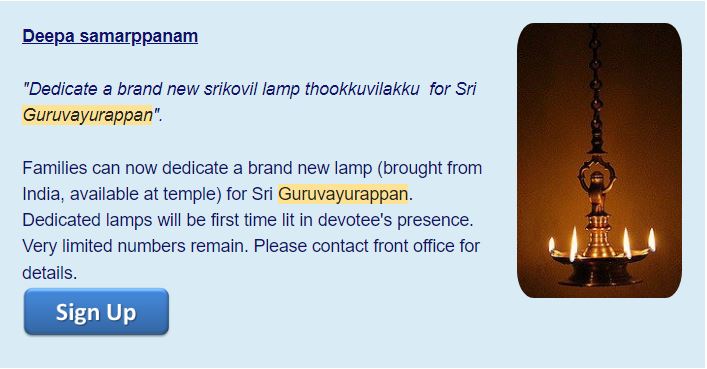 Please Visit the Temple Calendar for Upcoming Events and Save the Date.
Monthly Pooja
Ayyappa Pooja – First Saturday – SignUp 09/03
Ganapathi Pooja – Second Saturday – SignUp 08/13
Ganapathi Homam – Second Sunday- SignUp 08/14
Bhagavathi Seva – Third Friday – SignUp 08/19
Bhadrakali Pooja – Third Saturday – SignUp 08/20
Shiva Pooja – Fourth Saturday – SignUp 08/27

All other monthly poojas information and Sign Up, please click here.

Past Major Events
Prathishta Dinam – Anniversary Festival : May 27 – May 31

VISHU : April 14 – Vishukkani at temple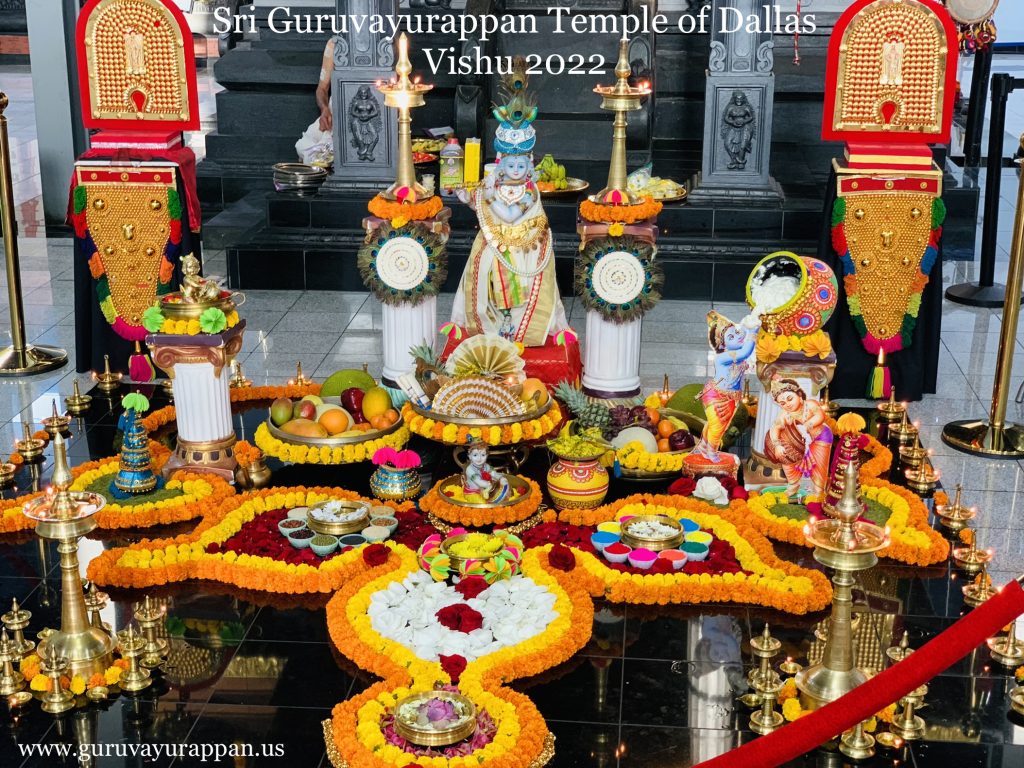 Maha Shivarathri : Feb 27 – Mrityunja Homam , Feb 28 – Kalasha Pooja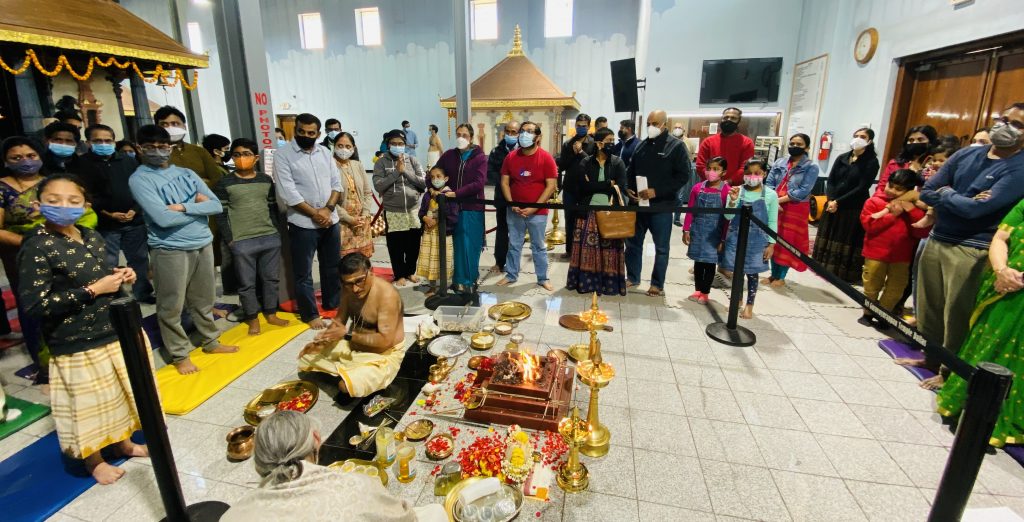 Nov 16 – Dec 26 Ayyappa Mandala Pooja – Visit Page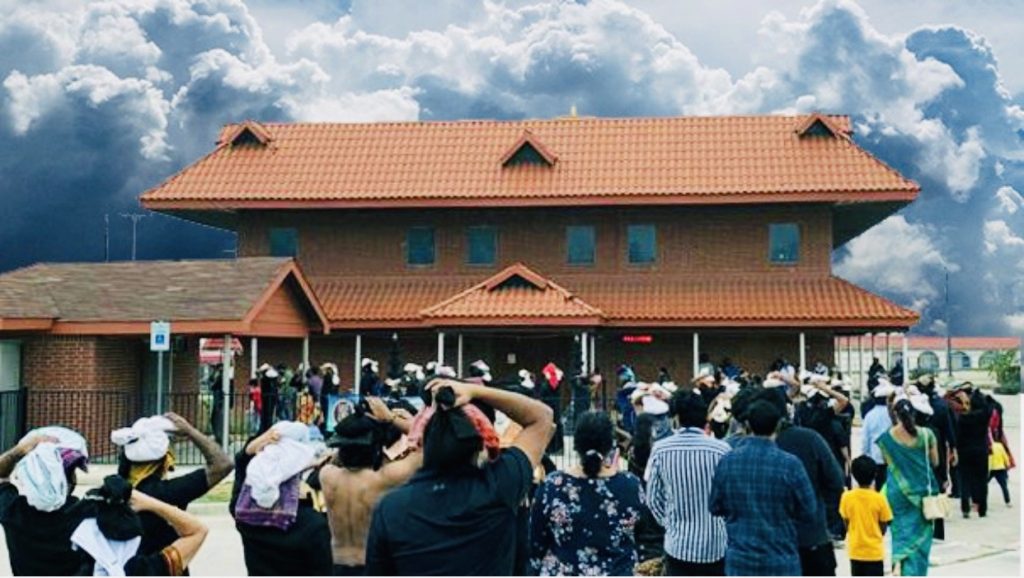 The 41 days long Ayyappa Mandalamasa Pooja completed on Dec 26, 2021. The event started on Nov 16 (Vrischikam 1) and Sabarimala "Melsanthi" blessed Ayyappa devotees of Sri Guruvayurappan temple of Dallas via a special video message. Daily Ayyappa pooja attended by pooja sponsors and devotees and offered Ayyappa bhajans followed by MalaDharana and Deeparadhana. Ayyappa Akhandanama Japam, Laksharchana, Ayyappa Vilakku were performed during this event. The MahaMandala Pooja day (final day), started with Ganapathi homam and followed by Swamis did Irumudi Kettunira with Saranam Vili at cultural hall. Irumudi procession with "Thiruvabharanam" ended at the Ayyappa sanctum and devotees offered the Irumudi items to Lord Ayyappa. Followed by Abhishekakam wih Ashta Dravya Kalasha Poojas. Devotees blessed seeing the Special Deeparadhana where Lord Ayyappa with Thiruvabharanam, and collected the pooja prasadams and mahaprasadam. Temple event committee is thankful to Pooja Sponsors, Swamis, all devotees and staff who made this event great success with the blessings of Lord Ayyappa. Swami Saranam.
Oct 6 – 14 Navarathri Mahotsavam and Vidyarambham – Visit Page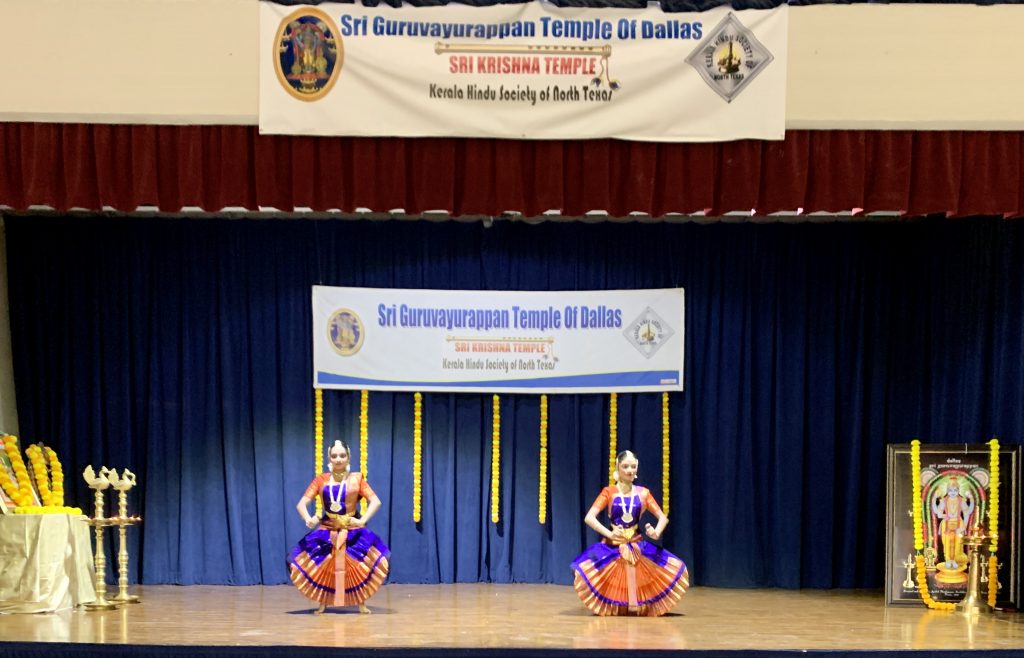 The 9 days long Navarathri Special Poojas conducted at the temple, and devotees in huge number attended and offered poojas each sessions and made this event great successful.

Navarathri Mandapam, a classical music/dance dedications offered to Goddess Saraswati by disciples of eminent gurus, at the cultural hall on Oct 12 & 13th. Click here for details.

On closing day, Vidhyarabham performed by temple priests, helped parents to initiate their children into the world of knowledge, letters at the temple.
June 9, 10 & 11, (Prathishta Anniversary poojas & celebrations)
Sri Guruvayurappan temple of Dallas started operations on July 16th 2011. Humble beginnings through Maanasa poojas by devotees and Namajapams resulted in the prathishta at the current temple on May 20th 2015. Start of the 108 temple yatra of Lord Unnikrishna (Deity) also coincided on July 16th 2011.
In memory of the humble beginnings, temple conducted many more events throughout this 10th anniversary year, and seen huge participation by family and friends for this auspicious events.
Sri Guruvayurappan Temple of Dallas Prathishta Dinam news that was broadcasted by Kairali TV.
https://youtu.be/iOwf209a80s
Announcements
G.O.D. KIDS Malayalam Class registration for academic year 2022-23 started. Click here.
Chenda Class – New Batch Registration
Sri Guruvayurappan Temple of Dallas is proud to announce the new batch of Chenda classes. We have a great Chenda artist from Kerala ready to teach Chenda classes. The classes will be in the evening. If you are interested in learning Chenda Classes, please contact temple front office. Thank you for your support.
How to become a Temple Nithya Supporter. Ask temple front desk or Contact us.