Temple Public Darshan Hours
Morning: 8:30am-10:30am (Monday-Friday) and 8:30am-11:30am (Saturday, Sunday)

Evening: 6:30pm-8:30pm (Everyday).
Current and Upcoming Major Events

ParaEduppu/ParaNirakkal: A very Special Prathishta Dinam related offering for Sri Guruvayurappan. This special offering involves filling of the sacred vessel (Para) with rice paddy by devotee's family amidst Namajapams for the welfare of the family.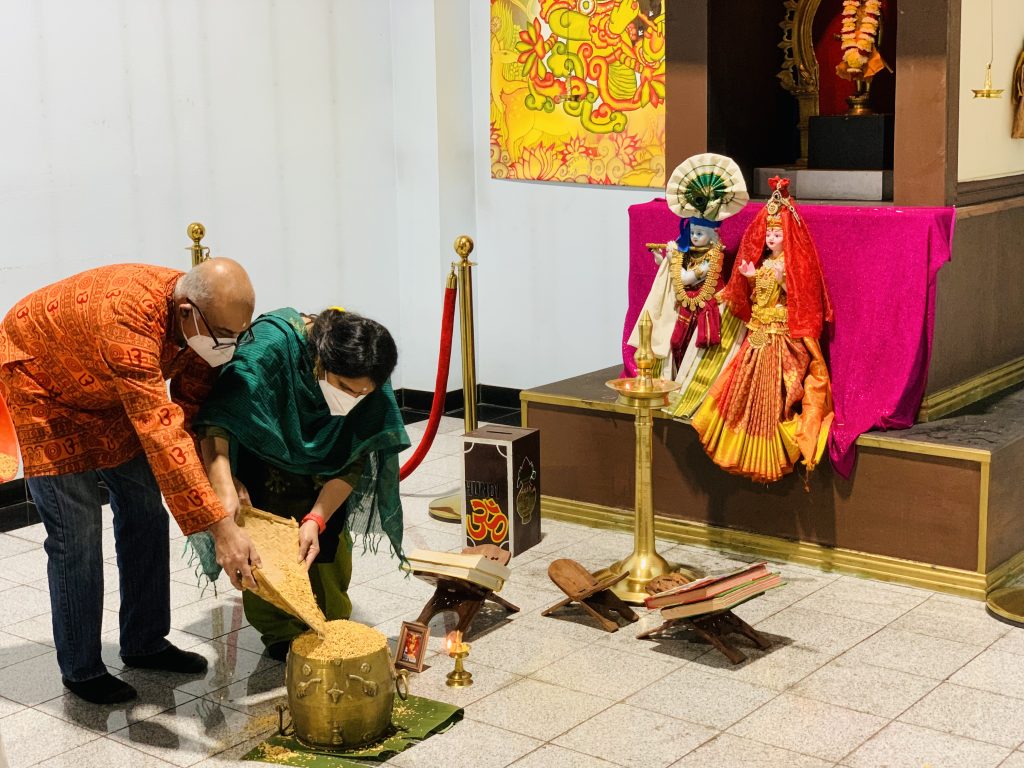 ParaEduppu or Paranirakkal
Significance: Historically in Kerala, families provided a share of their income in support of the temple by providing rice paddy using the sacred para. This is usually offered during the Ulsavam, Prathishta dinam periods. At our temple, an unconditional promise made to Sri Guruvayurappan to conduct thrikala (3) poojas daily and Prathishta Dinam poojas has gone uninterrupted since the Prathishta (consecration) in 2015. We request devotees to join hands and make this offering to keep up with the promise made to Sri Guruvayurappan.
Offering details: On the day of the offering, members of the family arrive at the temple, pushpanjali will be done to Sri Guruvayurappan for all the members of the family. After doing a namajapam, members of the family make a pradikshanam around the srikovil with Guruvayurappan's kolam, sacred lamp, Para chanting narayana mantra to the front of the temple and completes the Paraeduppu offering, guided by temple volunteers. (PHOTOS BELOW)
Offering benefits and privileges: Grand procession (Thaalappoli) for Lord Guruvayurappan is conducted only once in a year. The lady of the house (offering the Para-eduppu) joins as one of the leads in welcoming UtsavaMoorthy of Lord Guruvayurappan, with this special lamp on Prathishta-anniversary Grand Procession (Kazhchha Seeveli). This special procession which is done in public ONLY once a year, where you get to welcome Lord Guruvayurappan's UtsavaMoorthy (usually kept next to Lord Guruvayurappan). Pushpanjali (Archana) for family will be also be done on the day of Paraeduppu offering. (PHOTOS BELOW)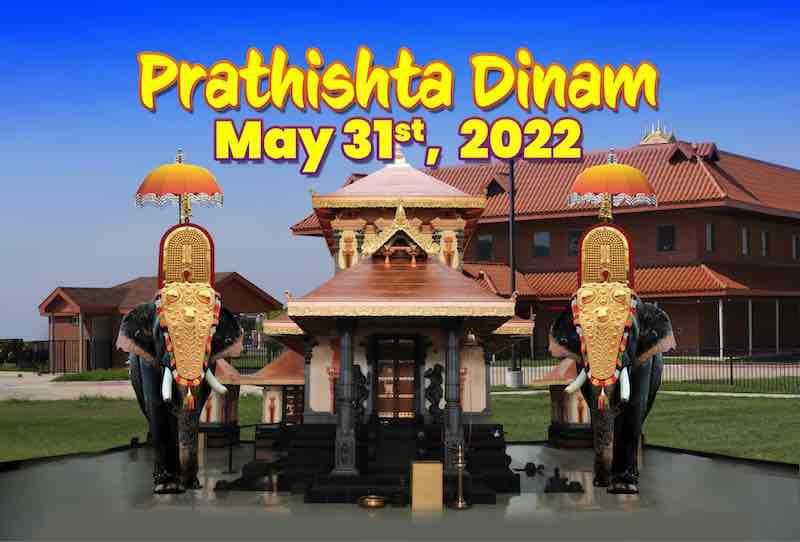 Prathisha Dinam (Anniversary) – Special Events
May 27 & 28 – Prathishta Dinam Shudhi pooja
May 29 – Kalabham
May 31- Prathishta Dinam & Grand procession
Udayastamana Pooja (Limited slots.. June 1st week!)

May 27 – May 31 – Cultural Programs & Annadanam at Temple Cultural Hall
Udayasthamana Pooja
(The highest offering that you could offer for Sri Guruvayuappan at our temple)
LIMITED NUMBER OF SLOTS AVAILABLE IN THE FIRST WEEK OF JUNE,2022. UDAYASTHAMANA POOJA INQUIRIES : manager@guruvayurappan.us and president@guruvayurappan.us

Lord Krishna has blessed us with the opportunity to conduct limited number of Udayasthamana poojas. Offered exclusively by an individual family (not a co-offering), this brings in blessings and aishwaryam not just to the family but the entire community.
What is UDAYASTHAMANA POOJA ?
Offering Udayasthamana pooja is considered as offering an Ulsavam for Sri Guruvayurappan (without Kodiyettam and Aarattu)
Equivalent of 6 day poojas at temple.
18 poojas for over 45 Devas and Lord Guruvayurappan.
9 Kalasha pooja and Abhishem with Homam
Sree Boothabali for all 45 Devathas
Exclusive for 1 family a day.
Lord Guruvayurappan's deity is brought out for Sheeveli
Poojas lead by Thanthri (former Guruvayur temple Melshanthi), with Chenda artists.
Special feast prepared as nivedyam for Lord Guruvayurappan.
Udayasthamana Pooja timings
7:00PM (DAY BEFORE) Offering of Rice (next days Udayasthamana pooja devotee)
6:00AM­ Nirmalyam (temple opening)
7:00AM Deeparadhana
7:15AM Udayasthamana Poojas (18 poojas) begins:
Ucha Pooja with Kalashaabhishekam
Procession with Utsava Murthi around the temple with offerings made to all devathas (Bali Kallukal)
1:30PM (Approx) Temple opens for evening poojas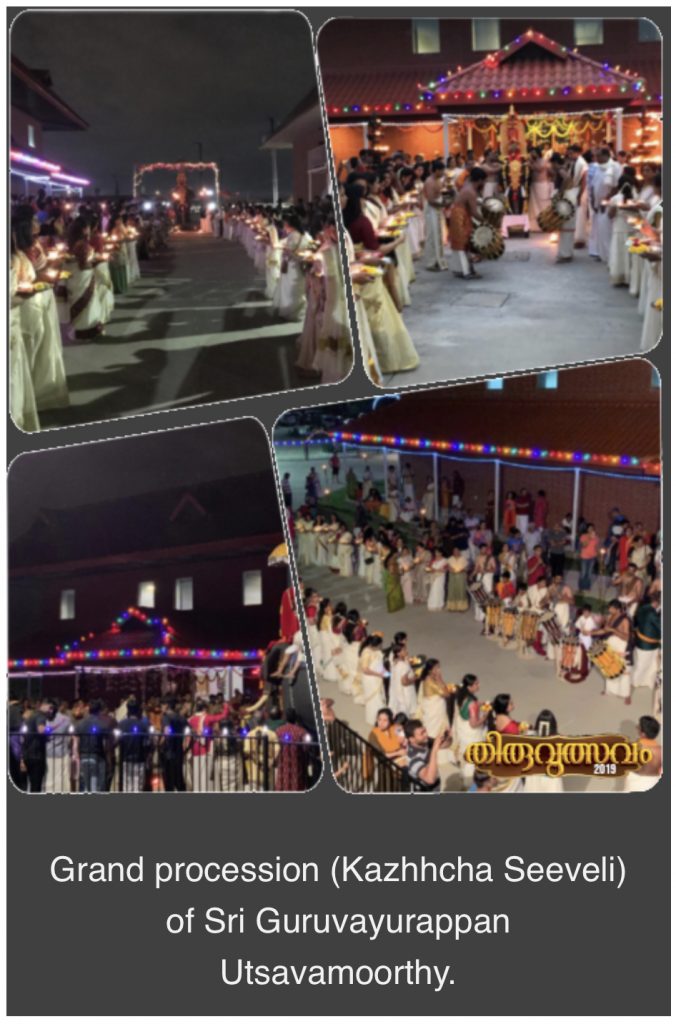 Monthly Pooja
Ayyappa Pooja – First Saturday – SignUp 05/07
Ganapathi Pooja – Second Saturday – SignUp 05/14
Ganapathi Homam – Second Sunday- SignUp 05/15
Bhagavathi Seva – Third Friday – SignUp 05/20
Bhadrakali Pooja – Third Saturday – SignUp 05/21
Shiva Pooja – Fourth Saturday – SignUp 05/28

All other monthly poojas information and Sign Up, please click here.

Past Major Events
VISHU : April 14 – Vishukkani at temple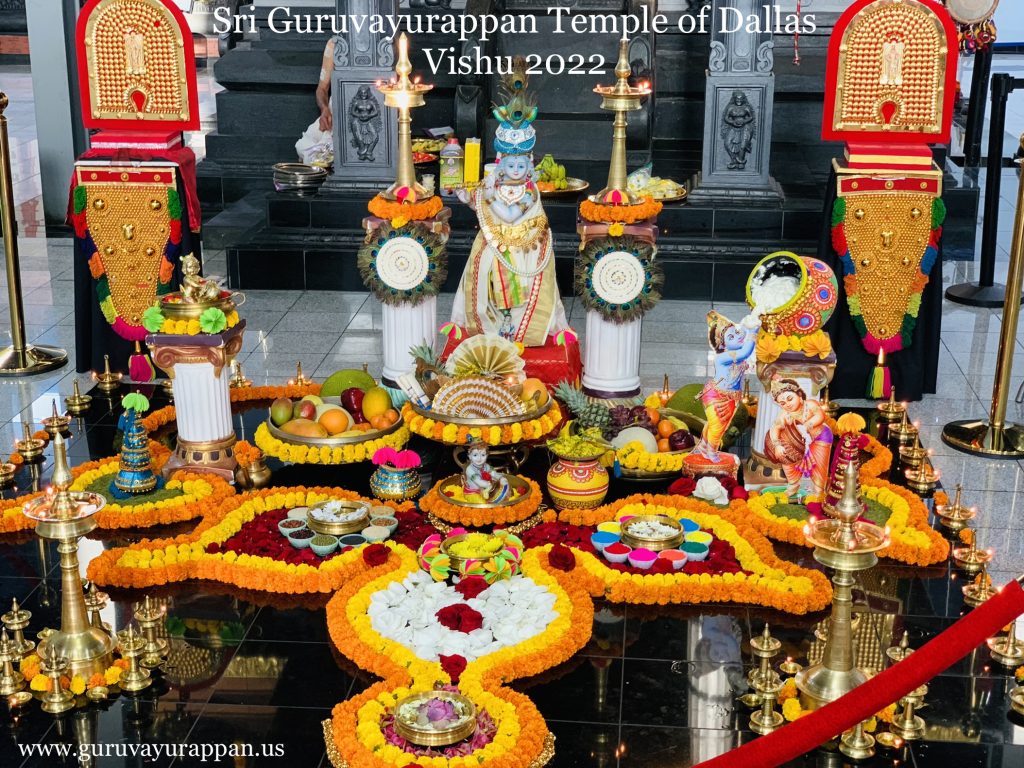 Maha Shivarathri : Feb 27 – Mrityunja Homam , Feb 28 – Kalasha Pooja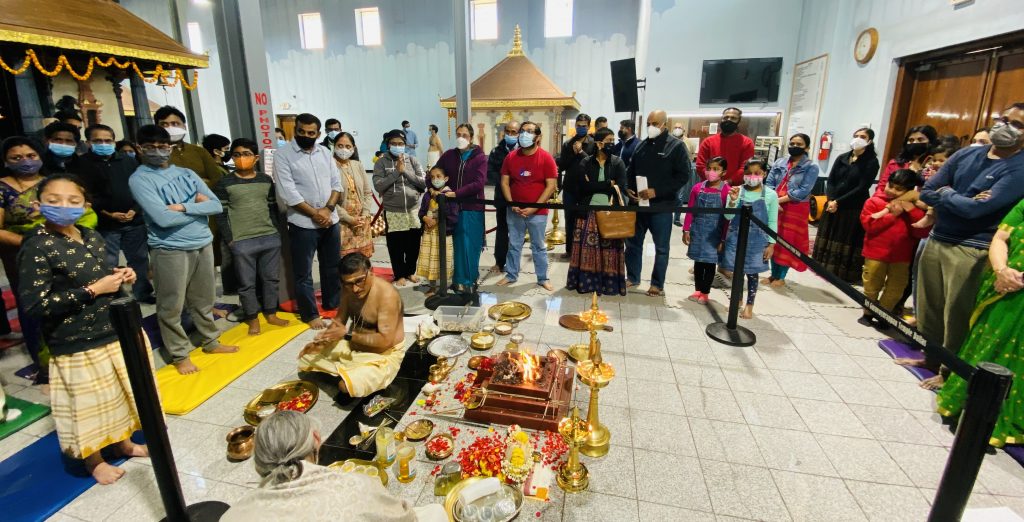 Nov 16 – Dec 26 Ayyappa Mandala Pooja – Visit Page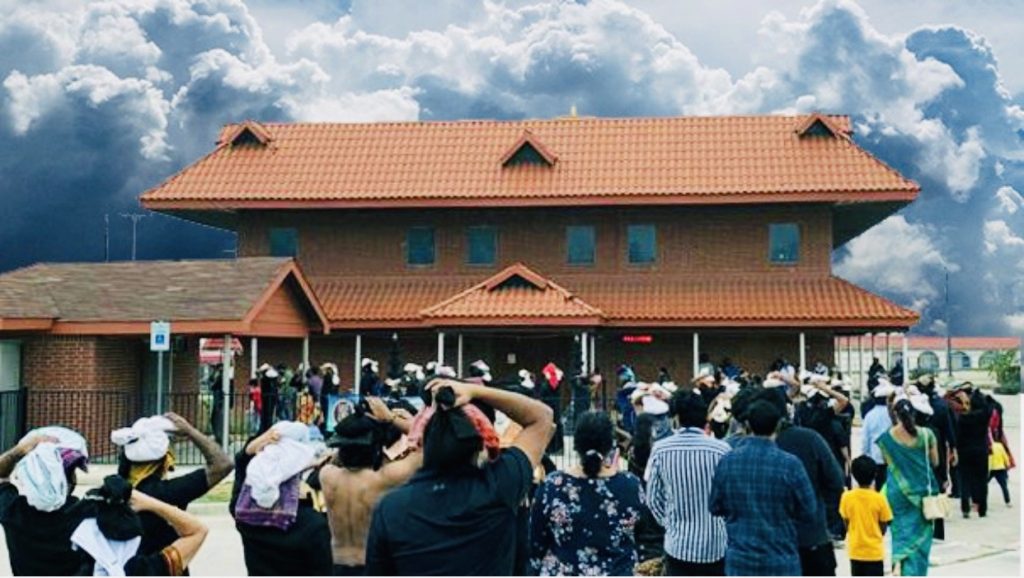 The 41 days long Ayyappa Mandalamasa Pooja completed on Dec 26, 2021. The event started on Nov 16 (Vrischikam 1) and Sabarimala "Melsanthi" blessed Ayyappa devotees of Sri Guruvayurappan temple of Dallas via a special video message. Daily Ayyappa pooja attended by pooja sponsors and devotees and offered Ayyappa bhajans followed by MalaDharana and Deeparadhana. Ayyappa Akhandanama Japam, Laksharchana, Ayyappa Vilakku were performed during this event. The MahaMandala Pooja day (final day), started with Ganapathi homam and followed by Swamis did Irumudi Kettunira with Saranam Vili at cultural hall. Irumudi procession with "Thiruvabharanam" ended at the Ayyappa sanctum and devotees offered the Irumudi items to Lord Ayyappa. Followed by Abhishekakam wih Ashta Dravya Kalasha Poojas. Devotees blessed seeing the Special Deeparadhana where Lord Ayyappa with Thiruvabharanam, and collected the pooja prasadams and mahaprasadam. Temple event committee is thankful to Pooja Sponsors, Swamis, all devotees and staff who made this event great success with the blessings of Lord Ayyappa. Swami Saranam.
Oct 6 – 14 Navarathri Mahotsavam and Vidyarambham – Visit Page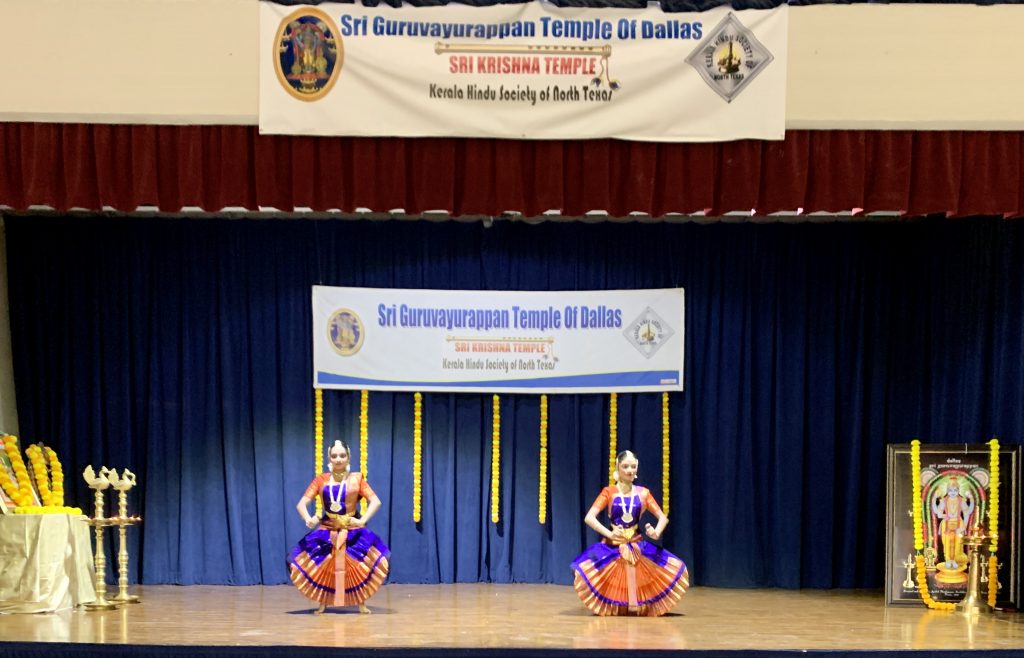 The 9 days long Navarathri Special Poojas conducted at the temple, and devotees in huge number attended and offered poojas each sessions and made this event great successful.

Navarathri Mandapam, a classical music/dance dedications offered to Goddess Saraswati by disciples of eminent gurus, at the cultural hall on Oct 12 & 13th. Click here for details.

On closing day, Vidhyarabham performed by temple priests, helped parents to initiate their children into the world of knowledge, letters at the temple.
June 9, 10 & 11, (Prathishta Anniversary poojas & celebrations)
Sri Guruvayurappan temple of Dallas started operations on July 16th 2011. Humble beginnings through Maanasa poojas by devotees and Namajapams resulted in the prathishta at the current temple on May 20th 2015. Start of the 108 temple yatra of Lord Unnikrishna (Deity) also coincided on July 16th 2011.
In memory of the humble beginnings, temple conducted many more events throughout this 10th anniversary year, and seen huge participation by family and friends for this auspicious events.
Sri Guruvayurappan Temple of Dallas Prathishta Dinam news that was broadcasted by Kairali TV.
https://youtu.be/iOwf209a80s
Announcements
G.O.D. KIDS Malayalam Class registration for academic year 2022-23 started. Click here.
Chenda Class – New Batch Registration
Sri Guruvayurappan Temple of Dallas is proud to announce the new batch of Chenda classes. We have a great Chenda artist from Kerala ready to teach Chenda classes. The classes will be in the evening. If you are interested in learning Chenda Classes, please contact temple front office. Thank you for your support.
How to become a Temple Nithya Supporter. Ask temple front desk or Contact us.