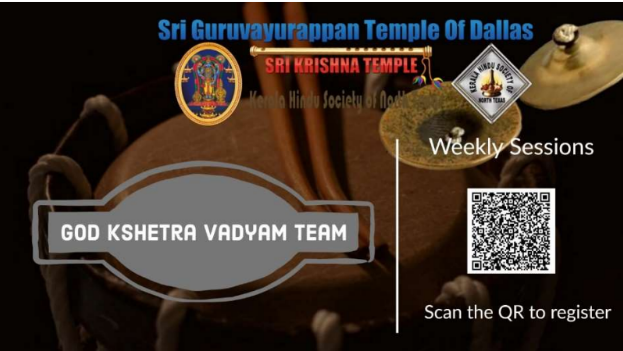 New Batch Registration
Sri Guruvayurappan Temple of Dallas is proud to announce the new batch of Chenda classes started. The classes will be in the Sunday between 1:30-4PM. If you are interested in learning Chenda Classes, please contact manager@guruvayurappan.us. Thank you for your support.
Purpose:
The purpose of the course is to develop a set of people who can serve us during
our annual events and other programs conducted by the temple to lead and support the
Kshetra Vadyam needs of the temple. A member of the Joint Committee will be the coordinator for
the team. Team will have the leads necessary to run the training and operations.
Registered members of the team shall take part in the temple events which
require Kshetra Vadyam Support. The aim of the course should be unchanged, which
is to serve the Kshetra Vadyam needs of the Temple as and when needed.
Payment:
Monthly donation $25 per month can be made via link here. This fund will be used to run the program.