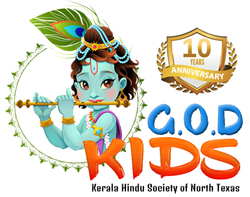 It's that time of year to register for GOD KIDS class. We are looking forward to seeing all our children back this academic year. We are excited to continue our focus on spiritual education. Registrations started for all students. Both new students and old student registrations will occur simultaneously. 


Payment links here:
KHSNT or Nithya Supporter link
Non KHSNT/Nithya Supporter link
Next steps will follow in email.

GOD Kid's Mission Statement:
Our services envision getting our children blessed by the four arms of Lord Guruvayurappan in developing
1) Knowledge (Spiritual, cultural, language),
2) Love (compassion towards other in the form of services),
3) Action (executing their Karma with a Dharmic perspective and
4) Strength (Inner strength to face this world), through Bhakthi.
-Based on Srimad Bhagavatam 12.11.13 & 14.
Note: We are also looking for volunteers interested in teaching Spiritual and/or Malayalam class. Learning will be online for the first semester. Curriculum will be provided. Interested devotees are requested to send an email with details to admin.godskids@guruvayurappan.us .
2021-22 Academic Year Updates
04/24/2022: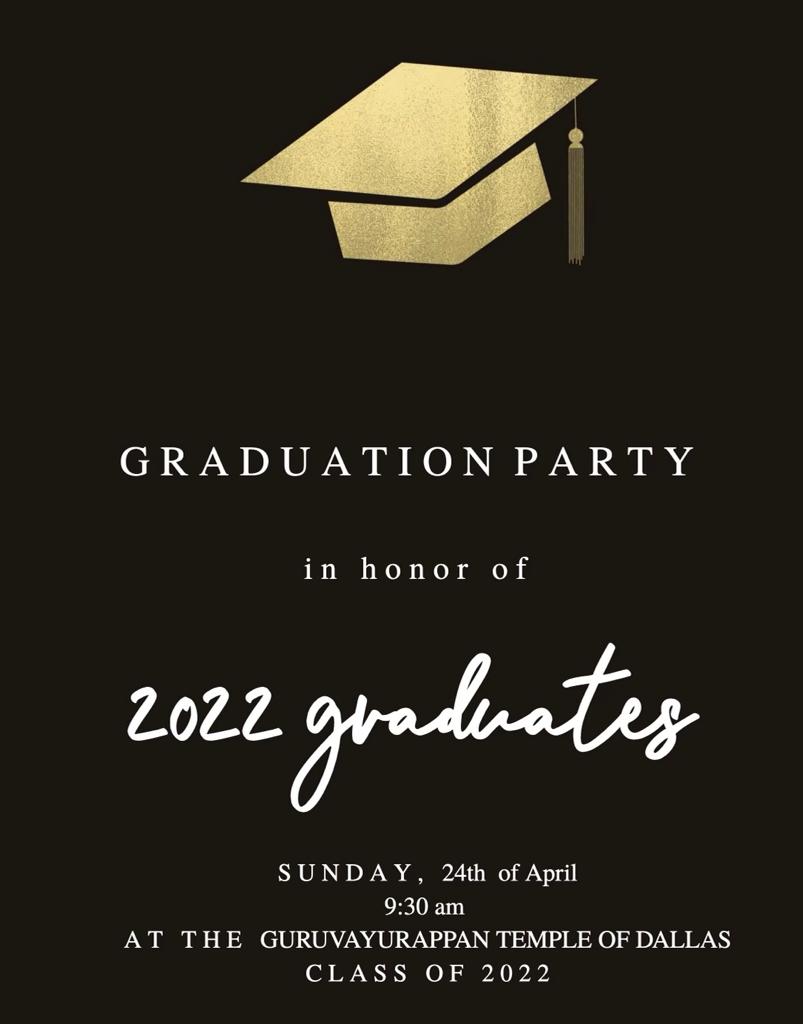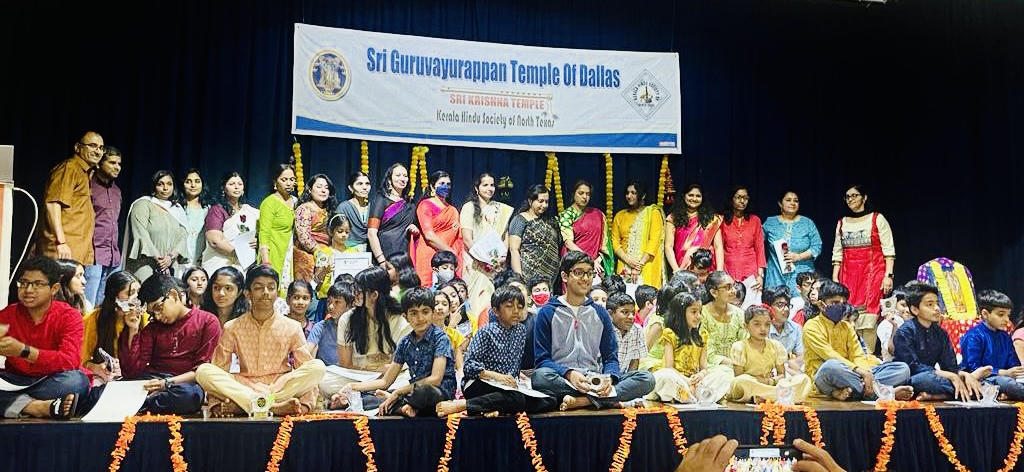 April 6th and 7th 2022:
The Department of Asian Studies at the University of Texas at Austin invited us to join in fundraising for their Malayalam Program. These days, UT Austin had what is known as '40 for Forty', a campus wide event that aims for anyone, anywhere to donate to their area of choice, and we supported to this.
JOIN TOGETHER FOR MALAYALAM
We are fortunate to be Part of the University of Texas Austin malayalam program. Malayalam is one of the most beautiful languages in India! UT Austin is the only University which offers a regular program for Malayalam language in the United States. For the last 3 years UT Austin has been supporting us at Guruvayurappan temple of Dallas to conduct the Malayalam placement exam as a part of our GOD kids. We have several students who graduated from UT Austin for their placement exam and have used it for their college application as well as foreign language credit waiver. Learn more.

02/10/2022: Please click below image for the latest edition of "Mayilpeeli"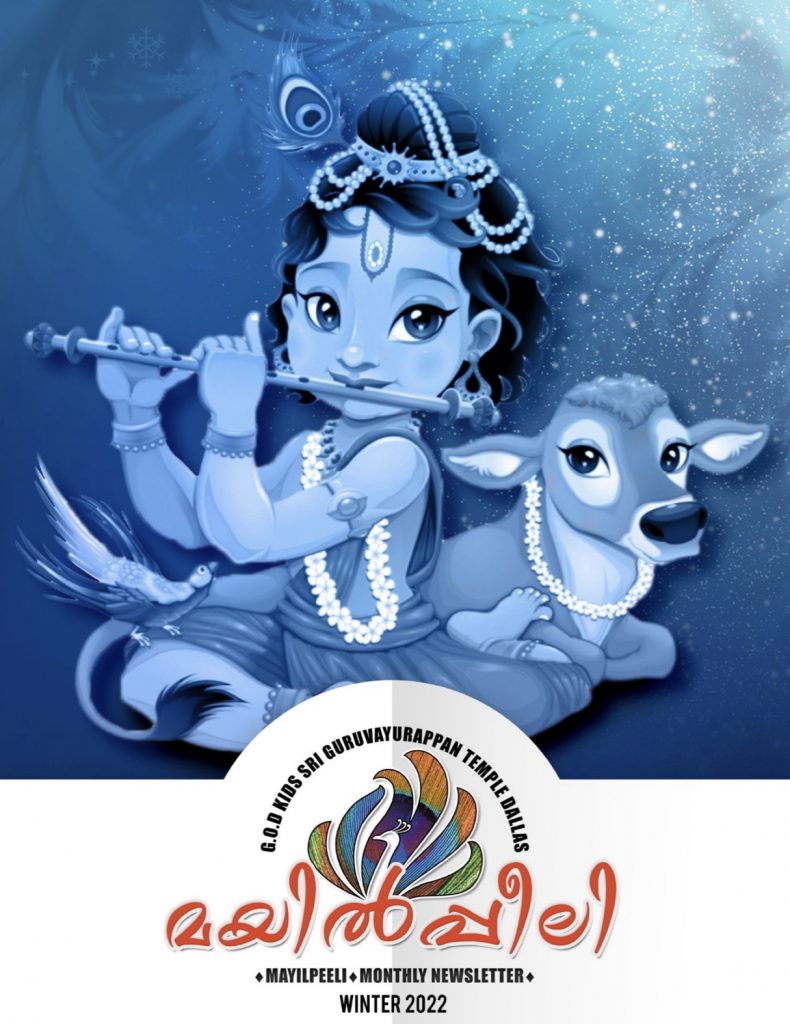 10/31/2021: GODKIDS dressed up in religious figures in "Trunk or Treat" program on Halloween day at Cultural Hall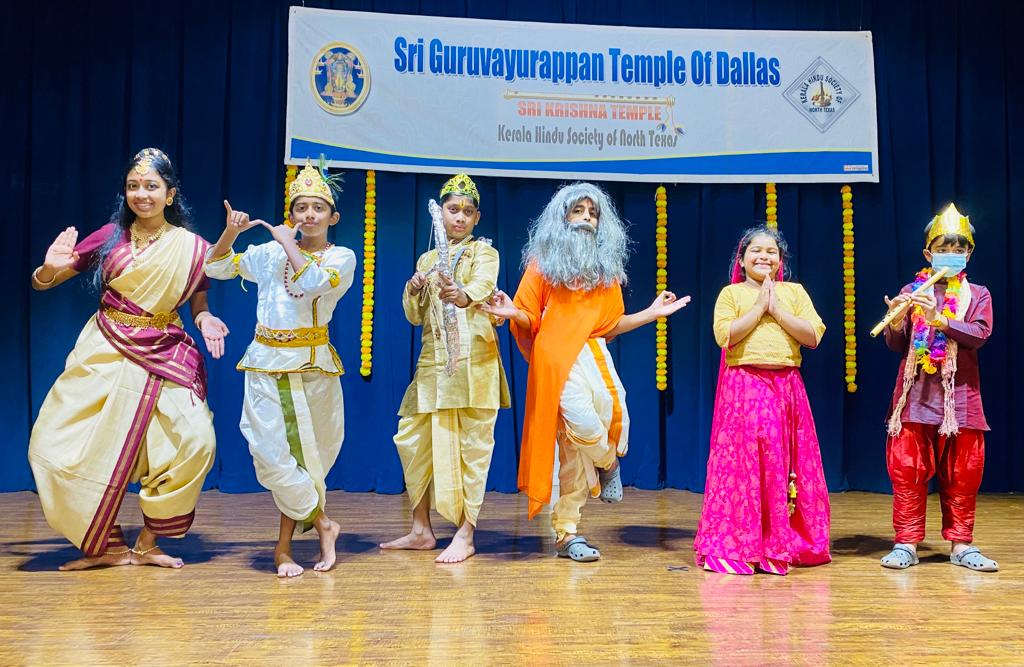 09/05/2021 : Spiritual and Malayalam Classes started. Admissions continue and limited seats open.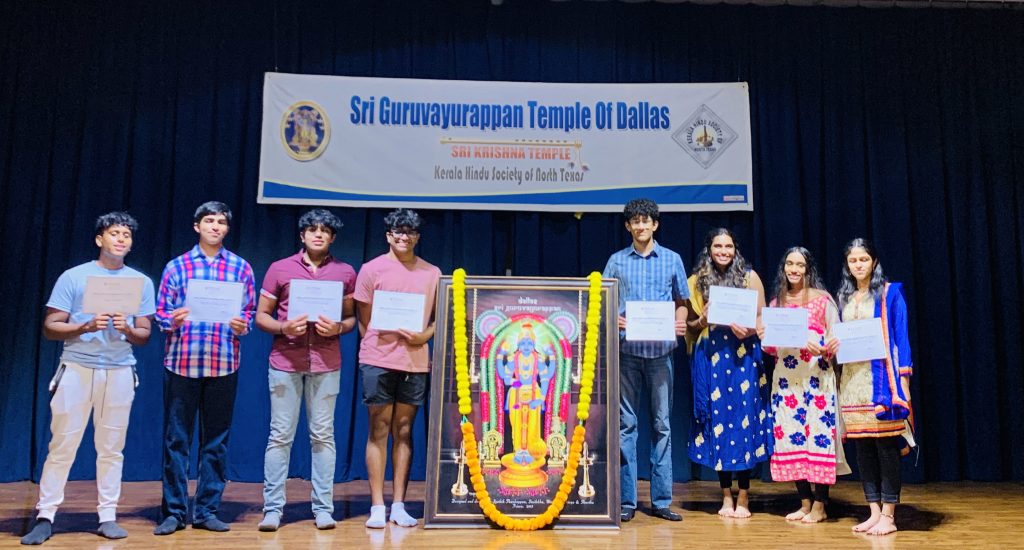 G.O.D KIDS High School students who passed college level Malayalam class are received their graduation certificates from UT Austin, at Sri Guruvayurappan Temple of Dallas on 08/29/2021.