Ayyappa Mandalamasa Pooja offerings booking available online (click here).

Visit this page for latest updates related to Ayyappa Mandalamasa Poojas (41 days), and Frequently Asked Questions, SignUp Links.

Please call/visit temple office, during open hours, if any additional information needed.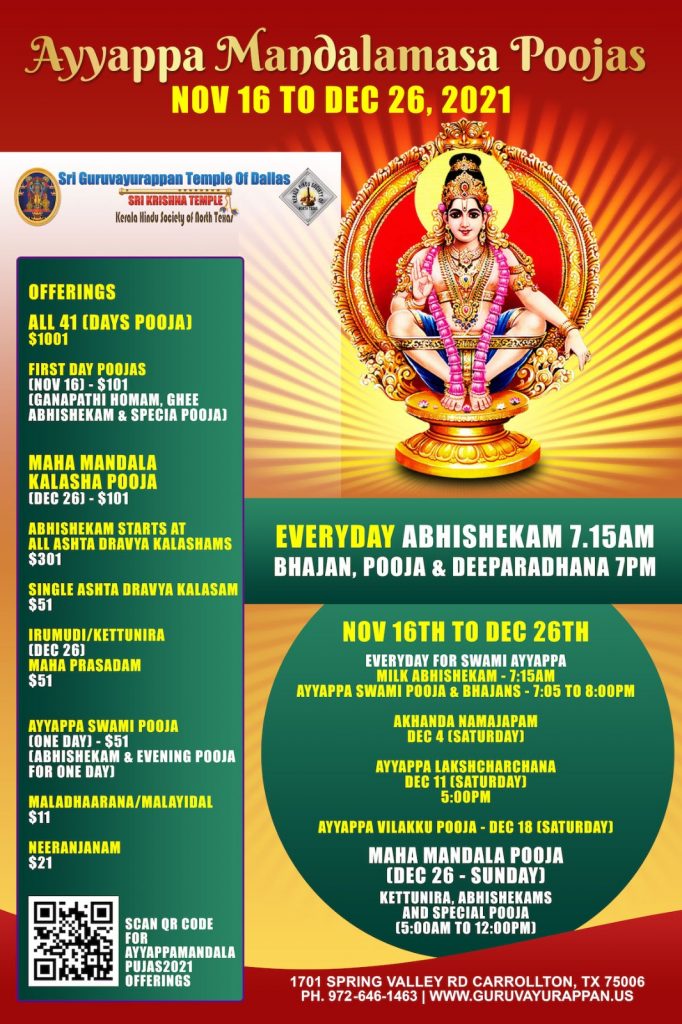 Latest Updates
Nov 16, 2021
Vrishikam 1, Mandalam started.
Great start with the Special Ganapathi Homam, Abhishekams in the morning, Bhajan, Pooja and Malayidal in the evening.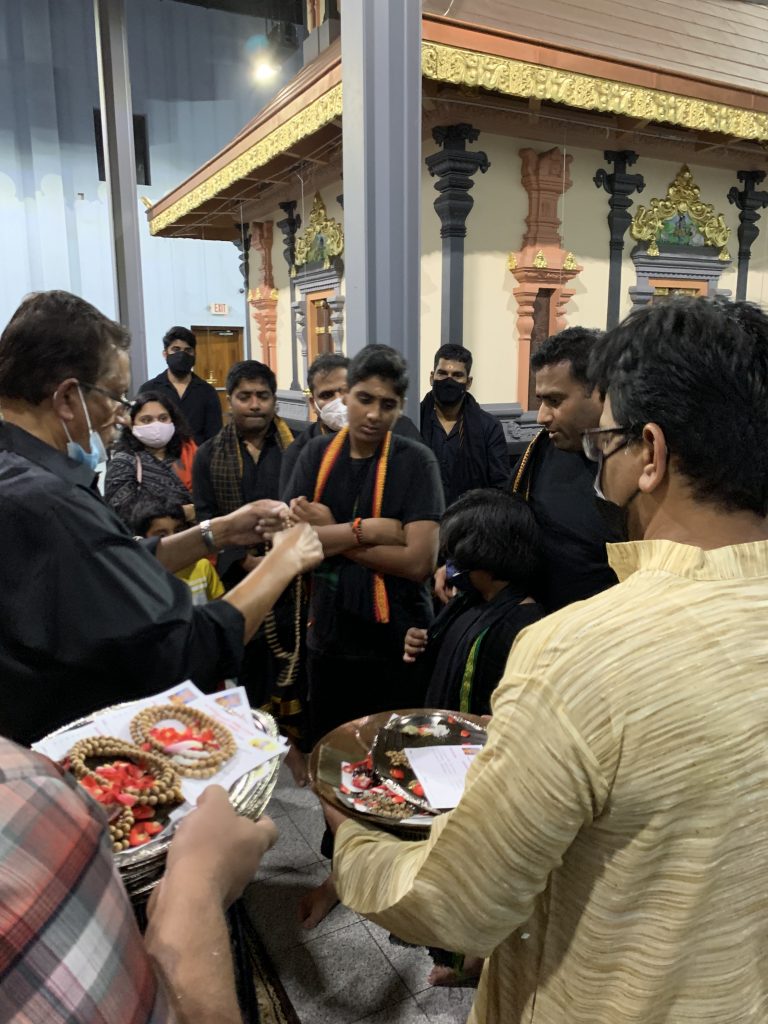 Nov 15, 2021
Ayyappa Bhajans are published in temple website https://info.guruvayurappan.us/archives/799
Signup for Bhajan here: Ayyappa Mandala Bhajan "AT TEMPLE" (Nov 16th – Dec 25th , 7PM-8:30PM)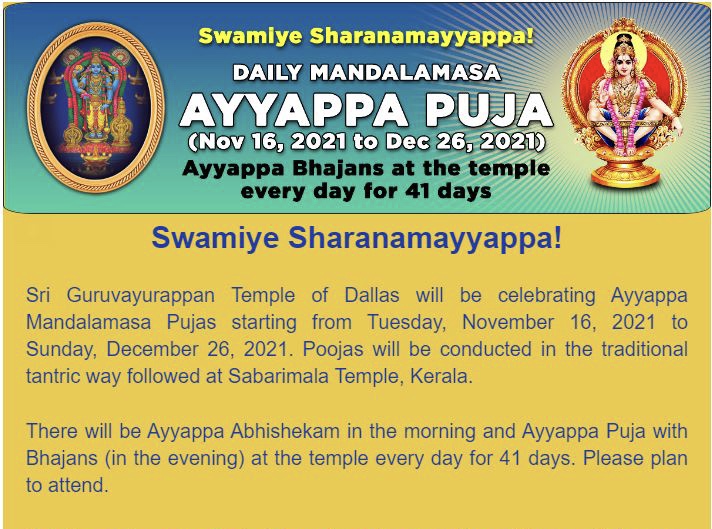 Nov 14, 2021
Sabarimala Melsanthi's Kettunira Live Special Event: https://youtu.be/a1tczbzuVBM

Sabarimala Melasanthi's message to devotees in Dallas Guruvayurappan Temple: https://www.youtube.com/watch?v=P0nuKEZUpEQ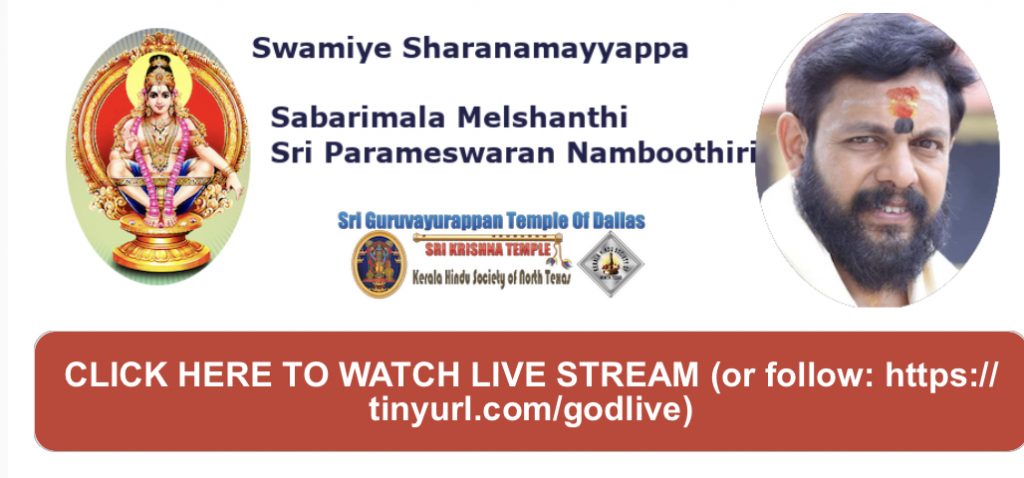 Nov 1, 2021
Devotees started Maala Dharana for this season….Maala pooja done by temple priest at Ayyappa temple.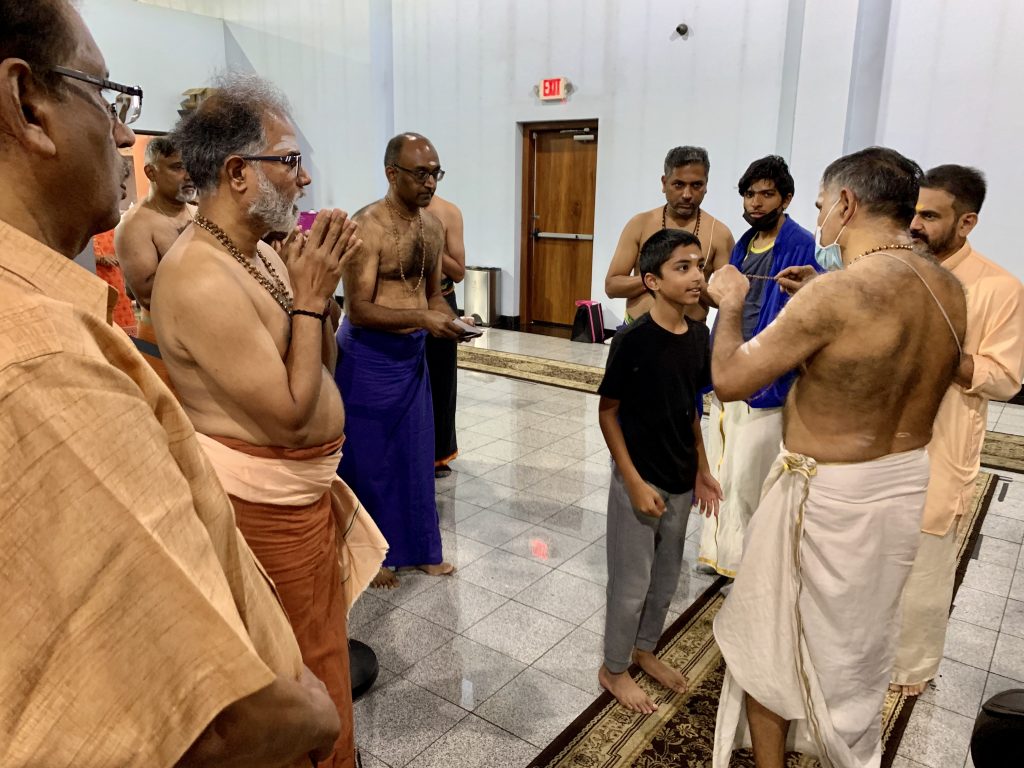 Swami's breaking coconut in designated area outside the temple, as an offering to Lord Ganesha as per ritual.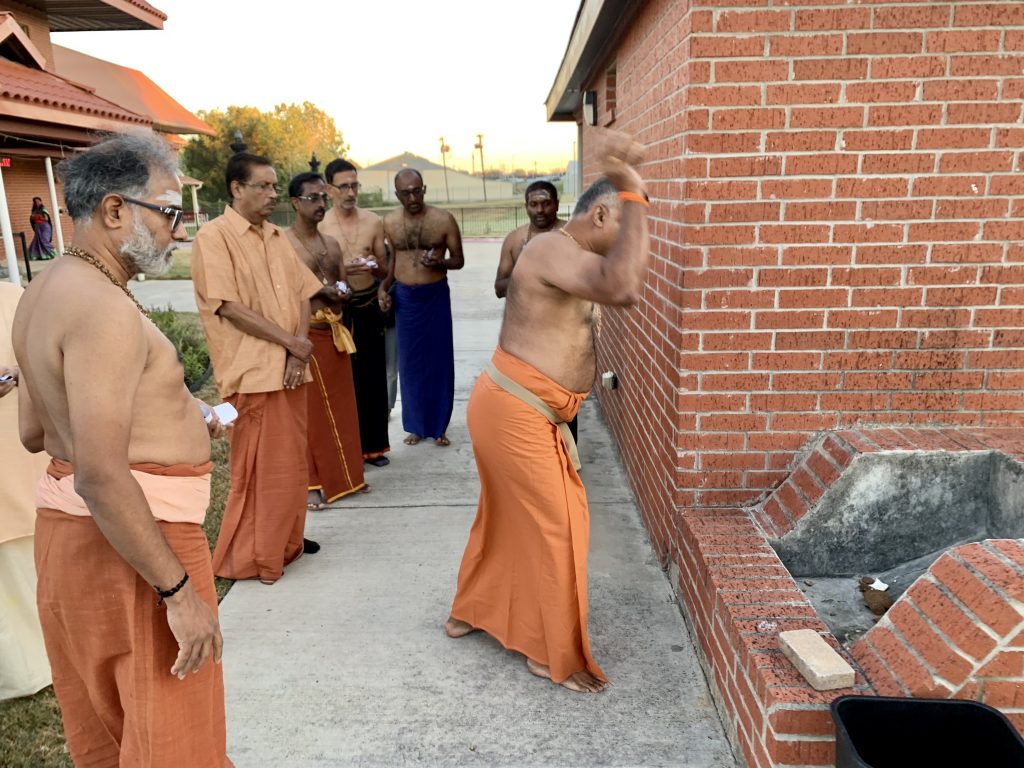 Frequently Asked Questions and Answers
Ayyappa Mandala Maaladharana/Maalayidal
Sanctification of mala by the priest at Lord Ayyappa deity. This mala will be worn by the Ayyappa devotees who undertake Vratham during Ayyappa Mandala season.
What to bring:
It is recommended that Devotee bring their own mala. Mala may be available for purchase from temple if AVAILABLE. Breaking of a coconut is a practice followed in many places during the Ayyappa Maaladharana time. Devotee is requested to bring a coconut while coming to temple for Maaladharana offering.
Last Date:
Maalapooja starts evening 7pm and give the mala to priest before this time. After Ayyappa deeparadhana, malayidal will be done by Guruswami/Priest). Last date for malayidal is Dec 25th.

Booking:
You may book online here or at temple office.

How do I signup for Ayyappa Mandala Special Events, Ayyappa Bhajan and Seva/Volunteer?

The signup forms are available here:
Ayyappa Akhanda Namajapam "AT TEMPLE" (Dec 4th Saturday, 7AM to 7PM)

Ayyappa Laksharchana "AT TEMPLE" (Dec 11th Saturday, 5PM)

Ayyappa Mandala Bhajan "AT TEMPLE" (Nov 16th – Dec 25th , 7PM-8:30PM) [Ayyappa Bhajan book available here]

Ayyappa Mandala Seva/Volunteer "AT TEMPLE" (Nov 16th – Dec 25th , 7AM-8:30AM, 7PM-8:30PM, DEC 26th 5:30AM-12PM)

Please plan to attend as many events as possible, and share the sign up links to devotees in families and friends for more participation on this auspicious event and Seva. May Lord Ayyappa bless all of us.


Swami Saranam.
Social Share